A control system retrofit can add decades of lifetime and reliability to your vessel
Shipowners and operators are fully aware that minimizing operational risks at sea and maintaining reliability is vital for maintaining profitability. The lifecycle of a ship easily extends beyond 25 years. During this time, for example, the control system for the vessel's main or auxiliary propulsion system can become obsolete, while the propulsion system itself still has years of operational capability. "The control system is vital for a vessel's reliability and safety. And we are able to effectively help shipowners extend the lifetime of their vessels via a control system retrofit, regardless of whether or not we are the original manufacturer", says Esa Peltomaa, Technical Sales Manager at Steerprop Ltd.
As a control system becomes older it becomes much more difficult to replace obsolete parts or find qualified technical support or service engineers. In a worst-case scenario, the original manufacturer has either disappeared from the market altogether or stopped their support for the solution in question. In such a situation, shipowners are left on their own to face overwhelming challenges in terms of keeping their business going with sufficient reliability.
"If a shipowner ends up in such a situation, there might be very few options left open in terms of restoring reliable operation to the vessel, and even fewer possibilities that make any sense to pursue, no matter from which business angle you look at it", explains Mr. Peltomaa.
Extending your vessel's lifetime
Sometimes an original manufacturer may need to replace the entire propulsion system, including the propulsion units, even though mechanically such units would have many years of operational capability remaining. Steerprop can help shipowners when a control system retrofit is economically feasible and it is possible to find a suitable delivery and installation time. Moreover, even when the parts you need are no longer manufactured, and any assistance from the original manufacturer is unavailable, you can still turn to Steerprop.
The Steerprop Control System features superior quality, reliability, redundancy, serviceability, user-friendliness, and flexibility.
"We have the retrofit solutions and the expertise to help shipowners extend the lifetime of their vessels effectively, even if the current propulsion system is not manufactured by us", says Mr. Peltomaa.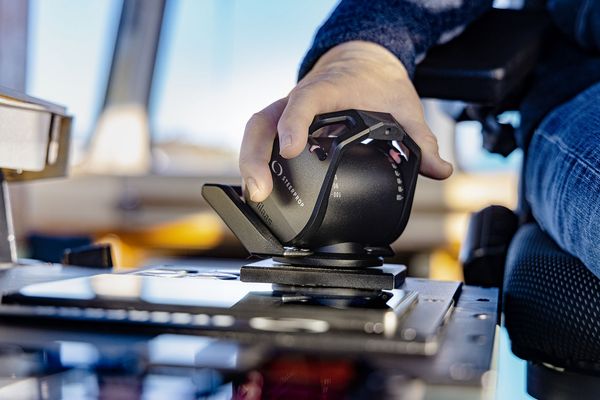 Built-in redundancy
At Steerprop, we take great pride in creating propulsion solutions and systems that have full redundancy, further enhancing the vessel's reliability and safety.
The Steerprop Control System retrofit is the best option for shipowners wanting superior operational reliability and high quality. This is ensured by control levers with full redundancy, enabling a complete follow-up backup control from the control levers at the bridge to the propulsion unit.
All control levers have dual maintenance-free sensors to eliminate unnecessary servicing. "The redundancy is guaranteed by an independent backup control system, which makes it possible to always restore a vessel to a safe state even after a suspected fault. The backup system is also continuously monitored and protected by the main system, ensuring continuous availability", says Mr. Peltomaa.
Proven quality systems shorten a vessel's downtime
At Steerprop, we follow all the relevant industry standards and best practices, and our technical solutions are certified by maritime classification societies. We are certified according to ISO 9001, ISO 14001 and ISO 45001 standards. But what does that mean in practice?
The entire control system, including controllers, cabinets and control panels, is tested together as a complete package. The testing is part of Steerprop's rigorous quality assurance. "This means that the control panels, touch screens and electrical cabinets are connected and tested with the actual software you use. This ensures compatibility and functionality before the installation, thus smoothing and speeding up the commissioning to guarantee the shortest possible downtime for a vessel", says Mr. Peltomaa.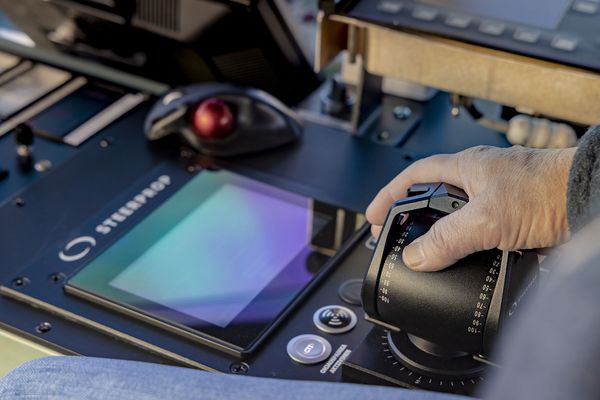 Support 24/7 creates peace of mind
We ensure smooth and reliable operations by providing all our systems with internal diagnostics, which monitor and warn crewmembers in case of an unusual situation or fault.
Additionally, we can provide a modern condition monitoring system, Steerprop Care, for propulsion units and even main electric engines. The system allows crewmembers to follow up on machinery trends and detect any deviation in advance. The condition monitoring system logs control system alarms and statuses, including vibration monitoring data. Even oil condition monitoring is an option with particle and oil condition analysis. "Condition monitoring can easily be upgraded to online monitoring for the highest possible reliability and safety, so you are never left alone. Additionally, you can achieve real peace of mind and savings if you base the service of your equipment on the actual condition of the equipment, instead of predicted hours of use", ensures Mr. Peltomaa.
We know that many of our customers operate in challenging environments. These circumstances vary from arctic ice conditions and offshore operations in strong winds and high waves to harbors, where tugboats assist giant container ships, for example. And at times, they all need support. In the event of an emergency, our service is available 24/7 to assist you, wherever you are.
Futureproof systems
Steerprop uses modern, state-of-the-art, proven technologies and components to ensure long lifecycle solutions with high serviceability and upgradability in mind. Our entire propulsion deliveries follow the same principle. So, for example, if a propulsion unit should reach the end of its lifecycle after a Steerprop control system retrofit, we have you covered since Steerprop's propulsors are plug & play compatible with the retrofit systems.
Steerprop's advanced control system is available as a retrofit or for newbuilds, regardless of the propulsor make or existing systems. Maneuvering with this system gives you a first-class steering experience that can be further enhanced with personalized control profiles according to your preferences.
The Steerprop Control System is a perfect fit for those who want to be in control and extend the lifetime of their vessels; even by decades.
Author