Serving the Lower North Shore reliably with 24/7 monitoring
The Bella Desgagnés vessel is the lifeline for people living on the Lower North Shore in North-eastern Canada. A total breakdown is not an option and that is why the ship owner Groupe Desgagnés opted for Steerprop Care Premium.
The Lower North Shore in North-eastern Canada has mesmerized people for thousands of years with its stunning scenery. Stretching from the Natashquan River to the border of Labrador, this area some 1600 km northeast of Montreal consists of islands, rocky cliffs, and sandy beaches.
The residents hail from Innu, Inuit, Québécois, Newfoundland and British descent, and the languages spoken today include Innu, French and English. The remote location has guaranteed a unique local culture visible in craft, language, and the way of living. About 5000 people live here in 15 villages, some hosting as few as 50 people. Some of the villages are not even accessible by road, leaving the villagers to rely solely on maritime transport for going to see relatives and friends, tending to doctor appointments, and getting necessities.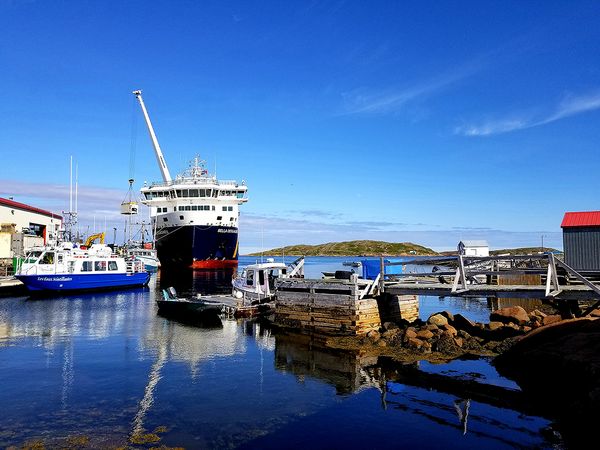 Serving commuters and tourists
This is where the Bella Desgagnés vessel, belonging to Groupe Desgagnés, a Canadian shipping company, sails between April and February. (During a short period between February and April you can rely on ice roads).
With a capacity of 460 passengers (including the crew) and 125 TEU of cargo, the Bella Desgagnés serves these remote villages with food and other necessities. It's also the only way for the locals to travel to other villages.
"The Bella Desgagnés is the lifeline of the area", says Mario J. Rossi, Executive Vice President, Operations and Special Projects at Groupe Desgagnés.
The Bella Desgagnés is with its 63 cabins also apt for tourists who come to this remote area to discover the stunning nature, where you can spot the occasional whale, seabirds and even icebergs floating from Greenland.
The crew operating the vessel need to pay attention not only to floating icebergs and whales, but also to manoeuvring the tricky waters. During the seven day circuit that begins in Rimouski on every Monday evenings, Bella Desgagnés calls on 12 different harbours before reaching the final stop at Blanc-Sablon on Friday morning, having docked and undocked at Sept-Îles, Port-Menier on Anticosti Island, Havre-Saint-Pierre, Natashquan, Kegaska, La Romaine, Harrington Harbour, Tête-à-la-Baleine, La Tabatière and Saint-Augustin. After a short normal stop in Blanc-Sablon she travels all the way back again calling on the same ports.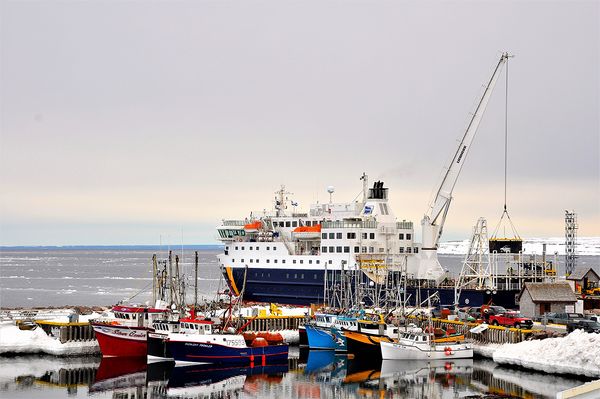 It's a tight schedule, and any disturbances in it is a catastrophe.
"People need to be able to rely on the continuous service of the vessel. And for them to be able to rely on us, we need to be able to rely on the vessel. It's paramount that the vessel operates at all times", explains Rossi, adding that the ship owner Groupe Desgagnés has a government contract to keep the service running.
Ideally, problems with the vessel and its propulsion are spotted and addressed before they occur because every repair risk taking can put the Bella Desgagnés out of operation. Even if it's just for a few days it messes up with the tight timetable of going to 12 ports within a week, not to mention the costs involved.
"If the vessel must be stopped, you have to reroute the passengers and deliver the cargo by other means. That comes with a lot of costs", says Rossi.
Anticipating problems in advance
Steerprop's service technicians have regularly flown from Finland to Canada to do check up on the propulsion. But what if the problems could be anticipated by AI and monitored remotely?
Steerprop has this service in its offering: of three levels of condition monitoring service available, the Care Premium is the most extensive one. It monitors the entire propulsion system 24/7 through an online connection. AI directs Steerprop engineers to focus on the right component at the right time.
"With the help of AI we analyse the information and results and give customers recommendations based on the findings", says Jarkko Sirrola, PdM Manager at Steerprop.
"We can follow everything remotely and then just hop on a plane if the situation calls for it", says Sirrola.
With Steerprop Care Premium we monitor and gather all relevant data from the propulsion system. Detailed information about the condition of the propulsor's components is constantly available. Immediate notifications are given on any anomalies detected and followed-up with recommendations of preventive measures. In this way, potential problems are identified before they escalate to failures, giving the ship operators time to make strategic maintenance decisions.
"It becomes easier for the customer to predict operations, and we minimize the risk of a total breakdown that might take the vessel out of operation for weeks. Maintenance costs throughout the vessel's lifetime are also minimized as there is more predictability", explains Sirrola, adding that the Care Premium has gained a lot of popularity since it was introduced two years ago.
"This 5-year contract with Groupe Desgagnés is showing that customers really appreciate this service."
Mario Rossi agrees.
"It's very helpful for us to have this system. Steerprop has a bird's eye view on what is happening on the vessel: if there is a deviation in oil or temperatures, any impurities etc...everything is seen right away by the Steerprop 24/7 system, and they can notify us immediately."
He also appreciates Steerprop's attitude.
"We have a very good relationship with Steerprop, we trust each other, and they are always very eager and willing to help."