Electrical and Automation
Steerprop electrical & automation design principles focus on reliability, serviceability and flexibility. We offer the best customer experience, from concept design to the operations of the vessel. We take the whole life time of the system into account, which means we can offer our customers the most straight-forward installation, commissioning and servicing on the market.
Our internal solutions are tested based on our decades of experience, while we at the same time stay at the forefront of ever-evolving technology and anticipate and meet current and future customer and class requirements.
Steerprop's skilled personnel works closely with our customers to ensure the best support and superior results throughout the entire installation process, including adaptation to existing on board systems.
Steerprop Control System
Superior control for new buildings or existing systems
The Steerprop Control System is the best option for shipowners wanting superior operational reliability and high quality. As part of Steerprop's rigorous quality assurance, the entire control system, including controllers, cabinets and control panels, is tested together with the propulsor in-house. The Steerprop control levers are equipped with full redundancy, enabling a complete follow-up backup control.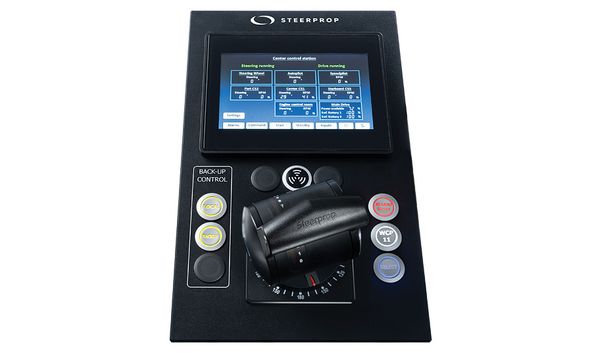 This next-generation control system is built with modern and proven PLC control technology. The comprehensive backup system, included by default in all units, has robust features for maximum redundancy and is always monitored off-line to maximize availability. The system also allows for remote service support via the Steerprop remote service module.
Steerprop's advanced control system is available for newbuilds or as retrofit, regardless of the propulsor make or existing systems. The system gives the customer a first-class manoeuvring experience that can be further enhanced with personalised control profiles according to personal preferences. The Steerprop Control System is a perfect fit for those who want, and need, to be in control.
Read more about the retrofit installation of the improved Steerprop Control System.