More efficient, sustainable and cost-effective operations in the Finnish Archipelago
In May 2020, Steerprop, together with Suomenlahden Telakka, completed a highly successful retrofitting project for Finferries' Prostvik passenger and car ferry. The ferry was originally built in the 80's, and it was high time to up-date the ferry's old diesel-mechanic propulsion system for a new and modern electric distribution system to gain increased reliability, higher energy efficiency, decreased emissions, as well as greater economic advantages.
The Prostvik ferry is one of two ferries that run between Nauvo and Korppoo in the archipelago outside of Turku, Finland. The ferry is one of the busiest ferries in Finland and is absolutely vital to the local population, who are dependent on reliable ferry traffic between the islands in the archipelago. Prostvik operates approximately 8000 hours per year, and carries about 140 passengers and 30 vehicles each journey.
To meet Finnferries needs for more efficient, sustainable and cost-effective operations, the old diesel-mechanic system on the Prostvik was replaced with a totally new and modern electric distribution system using Steerprop's innovative contra-rotating propulsion units (SP 10 CRP LM) with an integrated 400 kW permanent magnet motor. This solution offers much better efficiency compared to a traditional induction electric motor. The delivery also included a state-of-the-art control system and intuitive control panels, which adds substantially to modernizing the operations of the ferry.
Suomenlahden Telakka, the largest small-tonnage vessel repair and maintenance shipyard in Finland, strongly advocated Steerprop's technology to Finferries. 
"We know Steerprop's LM configuration saves space in the vessel and brings a greater level of simplicity to the engine room," says Jukka Jaatinen, Managing Director of Suomenlahden Telakka.
"Additionally, it was a more straightforward installation process for us, since the propulsion system is extremely compact with lower weight."
"The good and close cooperation with Finferries and Suomenlahden Telakka made this retrofit project possible. It was essential that we could do all checks onboard during the design phase when the ferry was still in operation as well as at the yard during the conversion," says Olli Knihti, Sales Manager at Steerprop.
Now in operation, the electric propulsion system brings greater economic advantages to Finferries. "The diesel engines can run according to the power requirement, and fuel consumption is optimized. The ferry also has a DC link, which allows future upgrades such as adding a battery to the vessel," states Olli Knihti, Sales Manager at Steerprop.
This retrofit project represented a big step forward in the ferry's energy efficiency, fuel savings and decreased emissions, adding real value to Finnferries' operations in the Finnish archipelago. In fact, Steerprop's retrofit solution is ideal for any ferry in the world that need to modernize operations to match stricter local and regional environmental regulations.
"Steerprop is committed to meeting our customers' needs. With our technical solutions and our way of resolving any challenges our customers might have, we really can make a difference and create great results for our customers and their operations," Knihti concludes.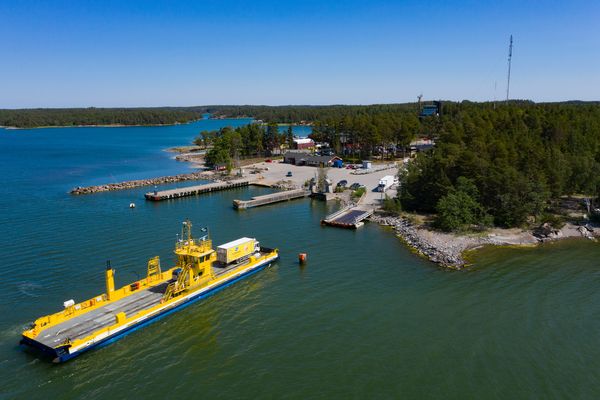 Quick facts
The Steerprop innovative contra-rotating propeller (CRP) 10 CRP LM propulsor system offers excellent efficiency. The dual-end CRP combines the exceptional maneuverability of azimuth propulsors with low pressure pulses and noise levels. The integrated vertical permanent magnet motor provides reliable high-power propulsion, increased fuel savings and lower emissions. Steerprop has delivered over 140 CRP units to vessels throughout the world.