Azimuth Propulsion
Azimuth propulsors have, due to their superior manoeuvrability and operational versatility, become the propulsion norm for various ship types. The agility expected in ship-assist tugs or the novel operation modes of most modern icebreakers, like ice-milling and ice management, can only be achieved with azimuthal propulsion units.
To ensure safe and efficient operations, Steerprop propulsion units always include our condition monitoring system, Steerprop Care, as a fully integrated part of the delivery.
Steerprop CRP and CRP ECO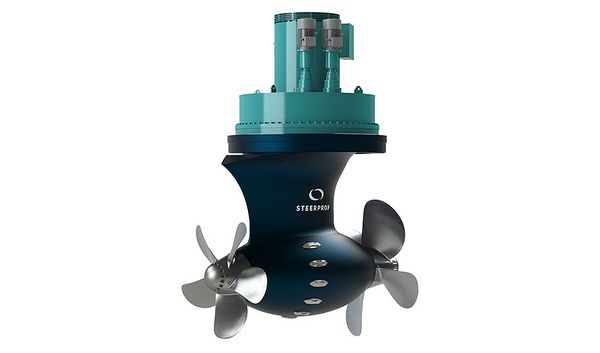 Steerprop contra-rotating propellers (CRP) in a push-pull configuration are specifically designed to meet the toughest customer needs. We combine the outstanding manoeuvrability of azimuth propulsors with the excellent efficiency of our CRP technology. CRP technology allows vessels to operate under demanding conditions where high fuel efficiency is a critical factor. The design has been tested and verified in action worldwide for decades.
Dual-end push-pull contra-rotating propellers
Power range from 900 to 3,500 kW and CRP ECO from 5,000 to 15,000 kW
Z-drive or integrated permanent magnet motor drive
Applications: vessels with demand for high comfort class, good fuel economy with or without ice
class and icebreakers
SP CRP is ideal for ferries, offshore vessels and merchant vessels
SP CRP ECO is also ideal for cruise vessels, as well as icebreakers and high ice class vessels.
Main benefits
High manoeuvrability
Light load on propellers, resulting in:

Good cavitation performance
Low noise and vibration levels
High efficiency

Low emissions due to good fuel economy
Higher bollard pull / DP-thrust compared to single open propeller
Effective ice milling with pulling propeller
Best ice management with propeller wash.
Read more
Steerprop W Series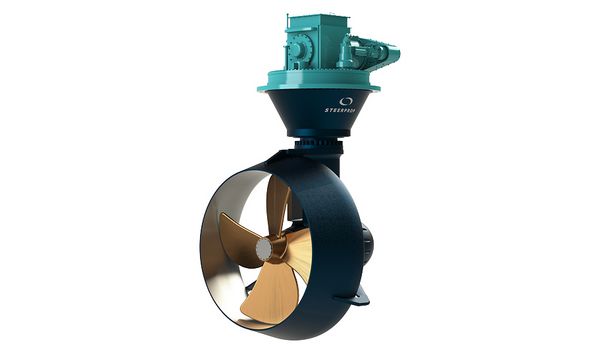 The Steerprop W series propulsors are tailor-made to meet the most stringent customer needs. The W series azimuth propulsors utilize the latest technologies in hydrodynamics and power trains, so that our customers can meet, and exceed, the required performance levels of today's operating environments.
The W series employs carefully selected manufacturing methods to fulfil the latest requirements, and to improve the flexibility of the design through modularization and scalability. Every vessel has unique performance requirements, and thanks to the modular design of the SP W series, customers can select various configurations to match their specific needs.
Power range from 900 to 7,000 kW
Z-drive or integrated permanent magnet motor drive
Available with open and ducted propeller
Also available in shallow draft versions
Applications: offshore vessel, workboats, tug boats, anchor handlers, ice-classed vessels
Main benefits
Increased overall performance
The modular and flexible design enables various configurations
Ducted propeller provide highest bollard pull / DP thrust
High efficiency nozzle for improved free running efficiency
High hydrodynamic efficiency
Mechanically robust and simplified construction
Steerprop PULL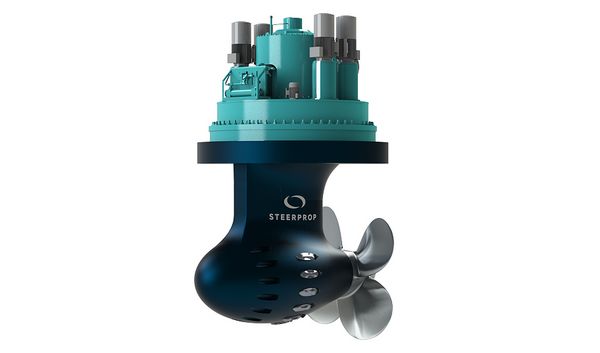 Dependability is especially critical in harsh arctic environments. The Steerprop ARC arctic azimuth propulsor line has been designed and built with multiple layers of redundancies and fail-safes for reliable, efficient and safe operations in the most extreme operating conditions. These advanced propulsors combine ice-breaking power with the reliability of mechanical construction and the accurate controls of modern automation technology.
Selected models available up to 12,000 kW (depending on ice class and application requirements) in the most demanding polar ice-classes
Pulling open propeller
Applications: vessels with high ice class and icebreakers
Main benefits
Pulling open propeller
Effective ice milling
Good ice management with propeller wash
Read more
The icebreaking rescue vessel Baltika with SP 60 PULL units